"You have no idea how much I have got from this training. It has given me much more confidence in media interviews. Thank you"
Media training
Our media training will make your media appearances more confident and you will be better placed to state your case. Clearly and succinctly. You will also be able to take more distance from the journalist. This is useful, because many people experience an interview as a conversation wholly determined by the questioner. It doesn't have to be like this. Our training is not about teaching you tricks that mean you will have to behave differently. A common misconception about media training. In fact, we really want you to be yourself, because authenticity is key to a good media performance.
Take control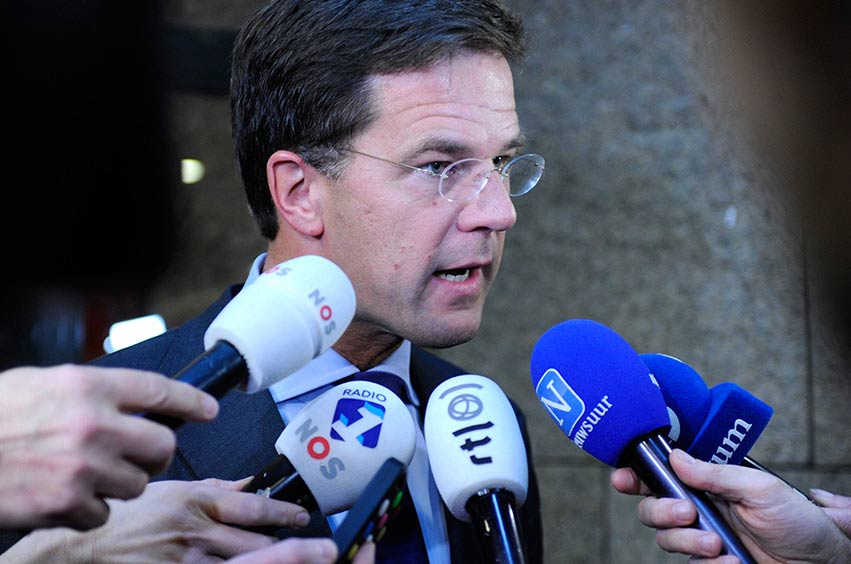 It's important that you're able to take control in an interview if needed. So that you can tell your own story, that is, your media message. Of course, it should never be the case that afterwards you're left feeling: I didn't say what I wanted to say, or: was I drawn into making incorrect statements? To prevent this, we give you simple and easy to action tips aimed at taking control – our so-called ABC method. The training focuses on, among other things, working with media messages, dealing with interruptions and closing an interview with a powerful statement. You'll work on gaining skills that will turn an interview into an opportunity rather than a threat.
Approach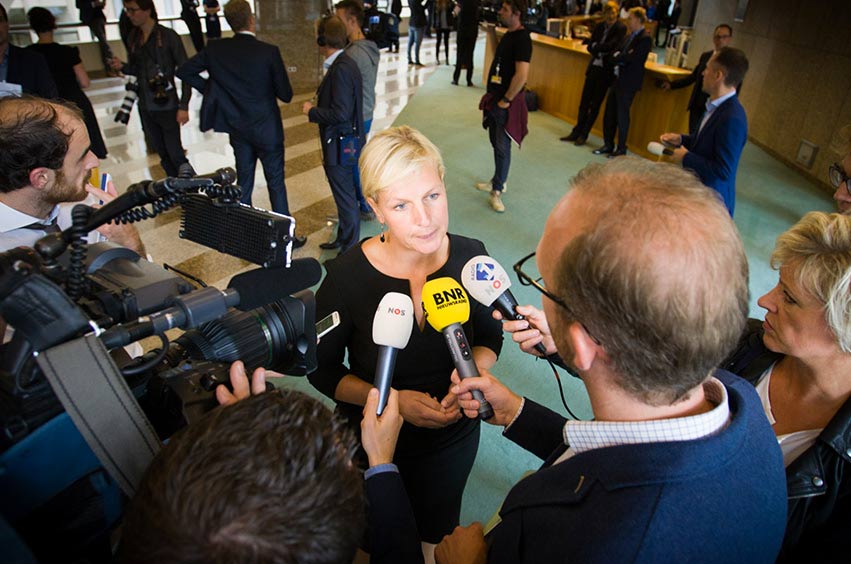 Our media trainings are practical. You learn good media appearances by doing and so you'll practice intensively to develop the skills needed for giving successful interviews. The trainers put themselves in the role of the journalist and give you the feeling of a real media appearance. You'll be trained in various interview forms (confrontational and informative) and in several media settings (TV, radio,  live broadcast). The trainers analyse the content and presentation of each interview extensively. This will make you aware of things to work on during media appearances. During the training you'll also get more insight into the functioning of the media and the working methods of journalists.
Confidence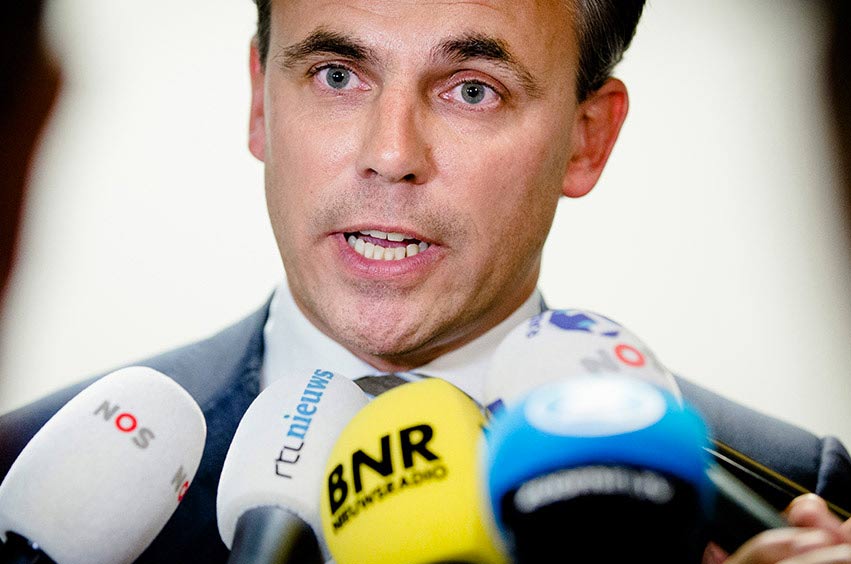 By the end of our media training you'll have a different perspective on media appearances. You will know how you should prepare and, in particular, how you can take control. You will learn the basic rules for a successful media appearance. In short: you'll be able to speak to journalists more confidently. After the training, you'll receive a personal evaluation report with your action points. You'll also be given our Tips for Media Appearances.
Workshop media training 
(new)
We're now also offering open registration trainings. You can participate in a group training at an attractive rate and train with participants from other fields or organizations. The groups have a maximum of six people. This training is suitable for those who want to invest in media training for themselves – for example, in preparation for a job as a spokesperson. The training is given in our training space in Amsterdam and takes place every last Friday of the month. Ask for information via email or call us (020 428 5805).
FAQ: Frequently Asked Questions
What is media training?
Every day we're asked the question, what exactly is media training and is it worthwhile doing such a training? So, below you'll find the most common questions and answers. First, but most importantly: in a media training you'll learn the skills to tell your story briefly and succinctly in a journalistic interview. You'll learn to take the lead, so that you have more control over the questioning, so that you are the lead character – not the journalist. Media training will increase the effectiveness of your media appearances.
Which media are covered in the media training?
All media are reviewed in the training. We record all the interviews. This might give the impression that the training is focused on TV appearances. But every interview in our training is representative of any type of journalistic questioning. Whether it is TV, radio or newspaper, the form is the same and rules are too.
Can I be myself with media training?
Our tips and tricks won't turn you into another person – a common misconception about media training. Authenticity is paramount. You must be and remain yourself. The point is that you will be more in control in an interview situation, that you can take the lead and tell your own story. To the extent that it is also useful for a journalist and that it reflects what you think is important. We will provide you with simple and easy tips that will help you do this.
Can I practice with my own subjects?
Certainly, and we advise you to do this. The interview subjects in our media training are always related to the participants' fields. This also makes the interviews realistic. You can also practice with your communications policy or the organization's Q&As. Prior to every training, there is an intake meeting so that we can customize the training to your needs. Each participant can also specify personal preferences, both in terms of content and the skills to be addressed.
Who are the media trainers?
Our media trainings are given by TV journalists with years of experience in news and current affairs. The best foundation for a media trainer. Especially TV journalists interview intensively and their story depends on the interviewee making clear statements. Most of our trainers also have experience as communications consultants. Consequently, they are able to advise and train from both disciplines. The trainings are led by Leo de Later. When you receive our offer, we will also inform you which media trainer(s) you will work with. You can also choose yourself from our select group of media trainers. Group trainings (minimum three people) are run by two trainers as standard.
Where is the media training?
The training is, in principle, at our office in Amsterdam, where we have access to our own training space and studio facilities. Of course, the training can also take place at any location of your choosing. We recommend that you do the training outside of the office, so that you are not disturbed during the session. We can, if you wish, arrange a suitable location in your area, so that you can really get away from it all.
How long will the media training take?
We recommend that you set aside a whole day for a group media training. Skills training is time consuming, because you learn by doing. It is not, therefore, something that can be learned in an hour. A private training for one or two people can be done well in three to four hours.
How often should I do media training?
The frequency of media training largely depends on the frequency of your media appearances. If you are only dealing with the media occasionally, then it makes sense to have training once a year. This is the best way to keep your skills and knowledge current. If you are doing interviews regularly, then it can be useful to do a training once every two years. You can brush up on your knowledge and evaluate your media experiences with our trainers. We recommend organizations that may have to deal with a crisis, and which have a crisis plan ready, to have training at least once a year. This increases crisis resilience, certainly in the area of media appearances.
Group training or individual training
Media training is primarily a skills training – you learn by doing. You can do this training individually or in a group. An individual training session is the most efficient. In just a few hours, you'll learn the most important lessons and train intensively with one or two trainers. One session is usually sufficient. If you'd rather train with colleagues, then the group training is obviously a good option.
These are one-day trainings. Led by two media trainers, you will work with each other. It is advisable not to make the group too big, a maximum of five people. The bigger the group, the less possibility there is to practice individually. The effectiveness of the media training is therefore directly linked to the size of the group. Of course, you can learn from each other in a group – you can see how others do it. In addition, you can also consider team building as a secondary goal of the training.
Important for management teams, communication departments and Executive Boards.
In-company or external training?
It is wise to do the training away from the office and not in your own working environment. Then you can really take a break from the daily routine and concentrate fully on the media training. All the trainings can be done on our premises. If you'd have a 'day out', that we can arrange a suitable location in your area. In Amsterdam, we work together with two excellent meeting locations in a rural setting.
Can the training also be given in English?
Our training can also be given in English. We have a number of native speakers with journalistic experience available.
Will I receive a certificate of participation?
We can provide proof of participation in our media training on request.
How much does the media training cost?
The price depends on the sort of training you follow, i.e. individual or group training. We are happy to provide you with a free, no-obligation quote. Click here to send us your message.
Feedback
To work on these action points, you'll go through multiple interviews during the training, in which every imaginable scenario can be chosen: radio, TV, newspaper, studio interview, live interview. We train with both forms of journalistic interview, confrontational and informative. Everything is recorded on video, so that it can be watched back. The media trainers give feedback after every interview. You'll receive what we call Tips and Tops; what is going well and what can be better. They will, of course, look at personal presentation and non-verbal communication. At several moments in the training what each participant has learned will be evaluated and consolidated.
Theory
Media training isn't rocket science, but we do provide you with some solid theoretical basis. This is primarily aimed at giving you handy tips that you can put into practice immediately. Such as a simple method to take control and a step-by-step plan for devising a media message. In addition, we'll show you video examples of good and bad media appearances. At the end, each participant will receive our Tips for Media Appearances and also a personal report.